Electrician in Springs, NY 11937
Your Search for a "Suffolk County Electrician Near Me is Over with Marra Electric!
Do your lights keep flickering? Are you looking to upgrade your electrical system? Do you want to install new lighting fixtures or need wiring for your computers? Or, do you simply want to develop a relationship with an electrician because you never know when you're going to need one? If you answered "yes" to any of these questions and you're located in Springs, NY, look no further than Marra Electric, one of the most trusted Suffolk County electrical contractors!
Experience You Can Count On
With Marra Electric, you can stop spending all your free time searching "electrician near me", "electrical company near me", "electrical contractors near me", and any other related searches. Why? – Because with their team of licensed, certified, and highly experienced electricians, you can have confidence knowing that whatever type of electrical work you need to be done, you'll receive the highest quality service.
Since 2004, Marra Electric has been servicing the residents and business owners of Springs, NY with the fastest, most efficient, and most reliable services. No matter how minor or major your needs may be, when one of their electrician contractors is on the job, you'll have peace of mind knowing that it will be done right the first time around. From outlet and fixture installations to service upgrades and pool wiring, Marra Electric does it all!
In the more than 15 years they've been in business, their crew of technicians has serviced countless properties throughout the Springs, NY area with impeccable results. Their clients consistently give them an A+ rating and always recommend their services to their family, friends, and anyone else they know that's looking for an electrician. Their fully licensed and insured company has the knowledge and experience needed to handle all types of electrical work; historic properties, new constructions, office buildings, apartments; no matter what type of building, Marra Electric has serviced it – and has delivered outstanding results, too!
The Marra Electric Difference
All of those searches for electricians in Suffolk County may have yielded tons of results, but none of them can compare to Marra Electric! Why? – Because they're not like any other electrical company. When they say that they're dedicated to exceeding their customers' expectations, they really mean it.
How can you tell? Well, just consider their commitment to delivering excellence. First, all of their work is 100% guaranteed. If for any reason, something happens that's related to a service their team provided, they'll correct the issue at no cost to you! An electrician that guarantees their work is something that's really hard to find. Secondly, Marra Electric's "Up Front Pricing" policy. With this policy, you'll never be hit by hidden fees or unexpected costs. Why? – Because they always have their clients approve the price for whatever service they provide before the service is rendered. Furthermore, the price you are quoted and approve of is the price that you will actually pay! If you've ever worked with another electrical company, you know why Marra Electric's "Up Front Pricing" policy is such a big deal!
A guarantee and approved pricing aren't the only things that set Marra Electric apart from other electricians. When you schedule an appointment with them, you'll be able to choose a date and time that's most convenient for YOU; with other companies, you're at the mercy of their schedule and what's most convenient for them. And, not only will your service be delivered at a time that works best for you, but their technicians will also show up on time. You won't have to worry about standing around waiting and wasting your valuable time; they'll actually arrive when they say will, and they'll be ready to work, too!
All technicians use clearly marked company vans, which are fully equipped with all of the necessary tools and equipment to get the job done. No need to worry that your electrician will leave you hanging while they leave and to get the equipment they need; the team at Marra Electric is always prepared!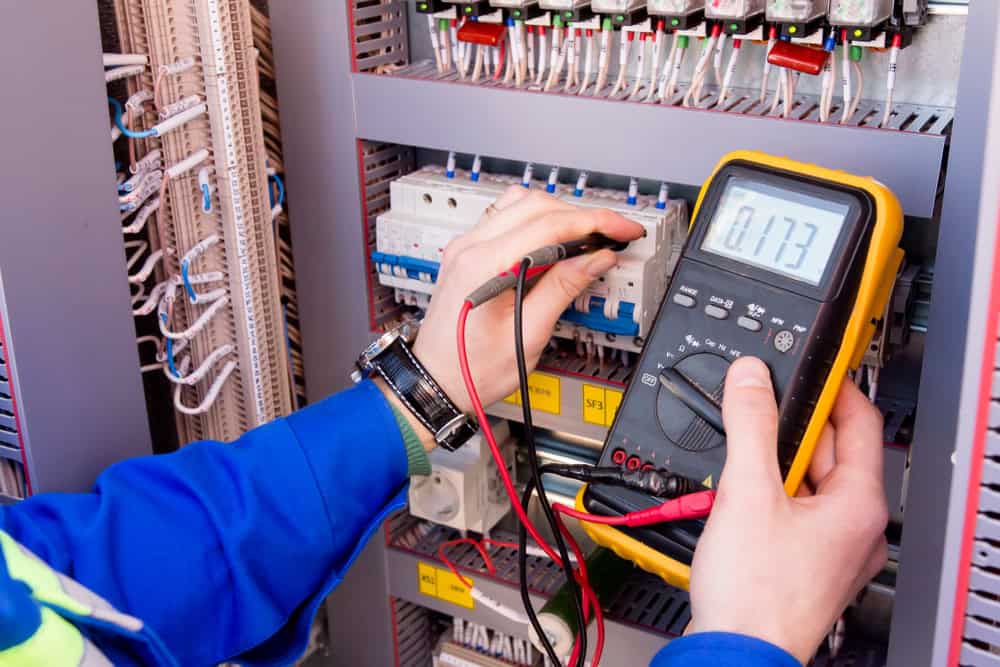 A Full-Service Suffolk County Electrician
Marra Electric is a full-scale electrical company. They offer a wide range of services for both commercial and residential clients, including:
Service upgrades
Panel changes
Lighting installations
Data and phone wiring
Pool and spa wiring
Electrical troubleshooting
Outlet and switch installations
And so much more! Plus, Marra Electric offers free panel inspections with all of the services they offer. Whether you're looking to install new indoor or outdoor lighting fixtures, you need to upgrade the phone wiring for your business, you're experiencing problems with your electrical system – or anything else at all – you can be sure that the professionals at Marra Electric will deliver the services you need.
Contact the Leading Suffolk County Electrical Contracting Company Today!
Need to schedule a specific service? Experiencing a problem on the weekend, in the middle of the night, or even on a holiday? No matter why or when you need an electrician, don't even bother with the rest; contact the best right from the start! To learn more about their services or to schedule an appointment, call 631-772-8576; one of their associates will be more than happy to help you!
---
Some information about Springs, NY
Springs is a census-designated place (CDP) roughly corresponding to the hamlet by the same name in the Town of East Hampton in Suffolk County, New York, United States, on the South Fork of Long Island. As of the 2010 United States Census, the CDP population was 6,592.
Springs is known in art circles as the cradle of the abstract expressionist movement. Artists such as Jackson Pollock, Willem de Kooning and John Ferren worked there. Writers such as Kurt Vonnegut, Joseph Heller, Philip Roth, Nora Ephron, and John Steinbeck have lived in or near Springs. Artists and writers were attracted to the area due to its rural nature, despite being within 100 miles (160 km) of New York City, and because housing prices 'north of the Montauk Highway' on the bay side of the East Hampton peninsula have traditionally been lower than those closer to the Atlantic Ocean. Traditionally, locals are referred to as 'Bonackers' which comes from Accabonac Harbor in Springs. East Hampton High School has adopted the Bonacker name for its sports teams.
The main roads connecting Springs to East Hampton are Springs-Fireplace Road and Three Mile Harbor Road. Jackson Pollock died in a car crash on Springs-Fireplace Road in 1956. Pollock and his wife Lee Krasner are buried in Green River Cemetery. Pollock's grave is marked by a large glacial erratic stone on top of a hill, Krasner's by a small stone lower on the hill. Since Pollock's burial numerous other writers and artists have been buried in the cemetery, joining the locals.
The Pollock-Krasner House and Studio on Springs-Fireplace Road is owned by Stony Brook University and is open for tours by appointment. It includes an external studio shed where dried paint from Pollock's projects is splattered on the floor and evokes Pollock's most famous works. The neighborhood around it is an East Hampton historic district. Springs-Fireplace Road gets its name from fireplaces at its terminus that were used to signal the residents of Gardiners Island that supplies were ready to be picked up.
Useful links for Springs, NY
Directions from Springs, NY to Marra Electric
---
Here are some electrician-related links: