Ronkonkoma Electrician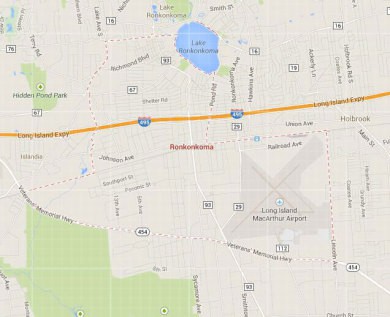 While it is considered to be Eastern Long Island to many, Ronkonkoma, NY is actually the gateway to all of Long Island, to New York City, and to the world. Ronkonkoma 11779 is home to one of the largest train stations on Long Island and is also a few minutes away from a large airport. The areas surrounding the train station and the airport are filled with beautiful homes.
Obviously a town with so much activity has a great deal of electricity needs.  This means that there will also be a great deal of electrical issues, and they will not all be quick fixes that the average person can handle.
A passenger on the Long Island Rail Road or on a plane at Islip Airport wouldn't be able to de-board, take a minute to assess and solve the problem, and then continue on with their trip as scheduled. As one of the premier electrical contractors in Suffolk County, Marra Electric is the top choice for Ronkonkoma electrical services.
Train stations and airports are not the only entities that need a great Ronkonkoma electrician. Marra electric provides services to all types of business and residences in Ronkonkoma, NY. Marra Electric was an Angie's List 2013 Super Service Award winner and offers a variety of services, such as:
Same Day Ronkonkoma Electrical Maintenace Available
A service upgrade and repair specialist, Marra Electric is available to provide same day service to its customers.
24/7 Ronkonkoma Electrical Emergency Service
The company is available to respond to any Ronkonkoma electrical emergencies 24 hours a day and seven days a week.
Friendly Staff
The company is an electrician of Ronkonkoma that takes great pride in having a staff that is courteous and on time. The company's staff will always show up in uniform and in a professionally lettered vehicle.
No Job is Too Small
Whether it is T.V. mounting, cable T.V., trouble shooting, motion lights, or panel changes, Marra Electric believes there are no jobs that are too small for our customers.
Free Estimates
At absolutely no charge, customers will always be able to find out the approximate cost of the work that they need to have done.
Licensed and Insured Ronkonkoma Electrician 
The company is fully licensed and insured Ronkonkoma electrician. Working with contractors that are unlicensed and uninsured is unfortunately putting both the home and life of homeowner's at risk.
Customer Service is our Number One Priority!
Marra Electric wants all of its customers to feel comfortable and enjoy their experience with our Ronkonkoma electrical company.
Ronkonkoma Generators Sales & Repairs
Marra Electric provides generator installations Ronkonkoma. The company has three generator options for its customers. The first option is a manual transfer to a small portable generator (usually mounted on the wall) from the electric panel. Option two is an interlock kit (custom fit and mounted out of site to the inside of the panel) that allows the customers to choose which circuits the generator will control. The third option is a standby generator that automatically turns on within 10-20 seconds of a power failure.
Owner Operated 
Marra Electric President Daniel Marra founded this electrical company in 2004. Prior to starting the company he had over 15 years of experience as an electrician.
Upfront Pricing
The company always provides upfront pricing. This ensures customers know the total cost of the job before it is started and there are no surprise bills at the end.
We're a completely insured and licensed electrical contractor for Suffolk County, New York, Long Island comprising of the townships in Islip, Babylon, Huntington, Smithtown as well as Brookhaven. We carry out just about all stages related to commercial and residential electrical services. Let us become your Ronkonkoma electrical contractor.
Call us now:
D.R.M. Electric, Inc. DBA Marra Electric
Certified Electrical Contractor
Suffolk County, NY Lic. #35607-ME
(Office) 631-772-8576
(Fax) 631-772-1015
(Email) marraelectric@optonline.net
12 month guarantee upon virtually all physical work
5 year guarantee upon virtually all support updates as well as substitutes
Each and every Ronkonkoma house includes wires and products, along with a section that manages the actual electrical power resources. Within old houses, as well as a few more recent houses, this particular cabling could be outdated, insufficient or perhaps harmful.
When the cabling in your house is not checking up on your own needs, Marra Electric, associated with Suffolk County, could make the required maintenance or even updates using our electric contractors.
Highlighted Solutions
 Troubleshooting
 Violations Fixed
 Generator Installations
 Carbon Monoxide / Smoke Detectors
 New Construction
 LED Lighting
 Circuit Upgrades
 Back Up Power Systems
 Recessed Lights
 Data & Phone Wiring
 Service Updates
 GFCI Receptacles
 Ceiling Fans
 Attic Fans
 T.V. Mounting
 Panel Modifications
 Motion Lights
 Spa Wiring
 Cable T.V.
 Pool Wiring