Nesconset Electrician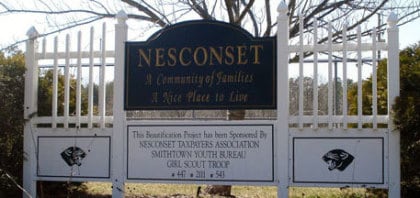 Do you ever wonder why your light bulbs keep burning out at a high rate? Have you been scratching your head trying to figure out why a recessed light goes off sometimes and then works again later? Maybe you've been startled by light bulbs popping?
Marra Electric, founded in 2004, provides solutions to these and many other electrical problems for the residents of Suffolk County, including the town of Nesconset.  Some of the services we offer include pool wiring, circuit additions, and generator and smoke detector installations.
Not only do we offer an array of different electricians in Nesconset, but we also guarantee that our workmanship is of the highest quality.  We employ licensed and insured electricians who are both knowledgeable in their field and courteous to clients.  We want to ensure that our customers will be happy with our work as well as the people who serviced them.
Just a Few of the Nesconset Electrical Services that we Offer:
•    New Construction
•    LED Lighting
•    Recessed Lights
•    Motion Lights
•    Circuit Additions
•    Ceiling / Attic Fans
•    Generator Installations
•    T.V. Mounting
•    Cable T.V.
•    Panel Changes
•    Violations Repaired
•    GFCI Receptacles
•    Troubleshooting
•    Pool Wiring
•    Data & Phone Wiring
These are just a few of our services, so don't hesitate to call and find out more information on other electrical services that we provide.  You can call us at 631-772-8576 and set up a consultation to receive a free estimate from a licensend and insured Nesconset electrical company. You can also email us at marraelectric@optonline.net or fax us at (631-772-1015).
Some More Information on Generator Installations Nesconset, NY:
One of our featured services is Nesconset generator installation. Hiring Marra Electric to install your generator will make the entire process go efficiently and safely.  Purchasing a generator is a great way to ensure that you will not be affected when there is a power outage. It gives you a feeling of security that you wouldn't otherwise have.  However, in order for your generator to work properly, it has to be installed the correct way.  Marra Electric does much more than just installing generators, we also repair and replace backup power systems as well.
Why Choose Marra Electric as your Electrical Contractor Nesconset
•    Impeccable Workmanship
•    Professional and Knowledgeable Staff
•    Incredible Customer Service
•    Fair Prices
•    24/7 Availability
•    Monthly Specials
Not only will Marra Electric's work impress you, but so will our staff.  They are experts in their field and really care about the clients.  Our staff always dresses and behaves in a professional manner, going to every job in their company uniform.  We want you to both trust the company and feel comfortable going to us with any questions or concerns you may have.
Because Marra Electric's main goal is to have happy customers, we make sure that every job is priced fairly and upfront.  The last thing we want to do is surprise a client with the cost of a project after it is complete. That is why we discuss costs beforehand as well as stay on time and on budget.  Even though you can always contact us to set up an appointment to get a free estimate, we offer emergency service just in case you need us immediately.  Additionally, during each month we offer discounts on different services, such as ceiling fan installations.