Holtsville Electrician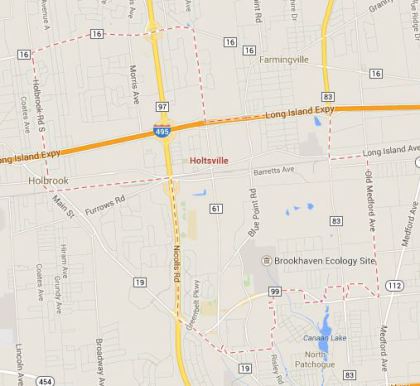 Have you noticed that some of the lights in your home are extra bright while others are running dim? Do some of your electrical appliances keep dying? Has a set of outlets or lights gone dead? These are fairly common electrical problems that can occur in your home, but they require the attention of a professional to be properly solved.
The top electrical services professional in Holtsville is Marra Electric. We can safely take care of all of these issues for you.
There are many reasons to choose Marra Electric as your Holtsville electrician. The company has provided Holtsville electrical services for 10 years and is an Angie's List 2013 Super Service Award winner. Among those reasons are:
Upfront Pricing
The company always provides upfront pricing. This ensures customers understand the total cost of the job before it's started and there are no surprise bills at the end.
Customer Service is our Number One Priority!
Marra Electric wants each of its customers in Holtsville, NY 11742 to feel comfortable and enjoy their experience with the company.
Friendly Staff
The business is an electrician Holtsville, NY that takes great pride of having a staff which is courteous as well as on time. The company's staff will always appear in uniform and a professionally lettered vehicle.
24/7 ELectrical Emergency Service Of Holtsville
The company is available to respond to emergencies 24 hours a day and seven days a week.
Same Day Service Available
Marra Electric, because it is a service upgrade and repair specialist, is available to provide same day service to its customers.
Licensed and Insured Electrician In Holtsville
The business is fully licensed and insured. Utilizing contractors that are unlicensed and uninsured is unfortunately putting both the home and life of homeowner's at risk.
No Job is Too Small
Whether it is T.V. mounting, cable T.V., trouble shooting, motion lights, or panel changes, Marra Electric believes there are no jobs that are too small for our customers Holtsville 11742.
Owner Operated Holtsville Electrical Company
Marra Electric President Daniel Marra founded the business in 2004. Prior to starting the business he had over 15 years of experience as an electrician.
Holtsville Generators Installations & Repair
Marra Electric provides generator installations Holtsville. The company has three generator alternatives for its customers. The first option is a manual transfer to a small portable generator (usually placed on the wall) from the electric panel. Option two is an interlock kit (custom fit and mounted out of site to the inside of the panel) that allows the customers to decide which circuits the generator will control. The third option is a standby generator that automatically activates within 10-20 seconds of a power failure.
Free Estimates
At zero charge, customers will always be able to find out the approximate cost of the work that they need to have done.
Here at Marra Electric, we offer a wide array of electrical services that includes installations, repairs, and replacements.
These are just some of the services we offer:
Motion Lights
LED Lighting
Panel Changes
Circuit Additions
Recessed Lights
Attic Fans
Troubleshooting
T.V. Mounting
Marra Electric is available every day of the week, 24 hours a day, so if you have any type of emergency at any time, we will be able to fix it.  Please call us at 631-772-8576, fax us at 631-772-1015, or email us at Marraelectric@optonline.net  in order to receive your free estimate.