Holbrook Electrician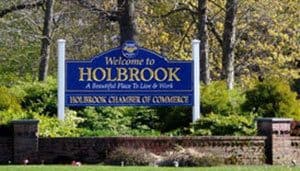 Are you tired of the constant power outages that have plagued Long Island over the last several years?  Ever had to deal with blown fuses knocking out power in different parts of your house? Or maybe the outlet where you've plugged in your favorite lamp is no longer working. Contact a Holbrook electrician for a free estimate on all electrical repairs and maintence.
There are so many things from day to day that you have to worry about, but if you hire Marra Electric, electrical issues will not be among them.  All you have to do is give us a call at 631-772-8576 or send a fax to 631-772-1015 to set up a consultation in which one of our electricians will give you a free estimate.  You also have the option of emailing us atmarraelectric@optonline.net.
Electrical contractor company, Marra Electric, was founded in 2004 and has been servicing the residents of Suffolk County on Long Island ever since, including the town of Holbrook.  We provide exceptional Holbrook electrical services, including, but not limited to, installations, repairs, and upgrades.
Customer satisfaction is our main priority. Founder and President, Daniel Marra, is involved in every aspect of his business and is dedicated to making sure that the company excels in both workmanship and customer service.
Benefits of Hiring Marra Electric as your Electrical Contractor Holbrook:
•    We always have the customer in mind.
Because your happiness is our #1 priority, we provide you with everything: free estimates, fair prices, and incredible workmanship.
•    We offer warranties as well to further ensure our customers' satisfaction.
1 year warranty on materials and labor
5 year warranty on service upgrades
•    We offer an abundant amount of services, so whenever you have an electrical issue, no matter what it is, we can help.
Some of our services include LED and recessed lighting as well as the installation and repair of backup power systems.
•    All of our services are performed by licensed and insured workers.
We don't just send anyone to your home to perform electrical services. Instead, we make sure that all of our workers are dedicated, skilled, and personable.
•    Our availability sets us apart from other Holbrook electrical contractors.
We are available 7 days a week, 24 hours a day; if you have an electrical emergency, don't hesitate to contact us.
Electrical Services Holbrook, NY
Some of the services we offer to clients include, but are not limited to:
•    LED Lighting
•    Recessed Lights
•    Motion Lights
•    Ceiling Fans
•    Attic Fans
•    T.V. Mounting
•    Cable T. V.
•    Panel Changes
•    Troubleshooting
•    Carbon Monoxide /Smoke Detectors
•    Pool Wiring
•    Spa Wiring
•    Data & Phone Wiring
•    Circuit Additions
•    Backup Power Systems
We do everything from the installation of fans and generators to basic service upgrades.
Generator Installations Holbrook, NY 11741:
Purchasing a generator is a great way to make sure that you will never have to worry when there is a power outage.  A generator provides backup power to homes so that if there is a loss of power, caused by a storm, for instance, you will not be affected.
Not only can we help you purchase a generator that will best suit you, but we can install that generator as well.  Our Holbrook electrical company will also assist you if your generator is in need of a repair or upgrade.
If you are in need of any type of electrical service, such as lighting, wiring, or troubleshooting, you should contact Marra Electric now for a free estimate.